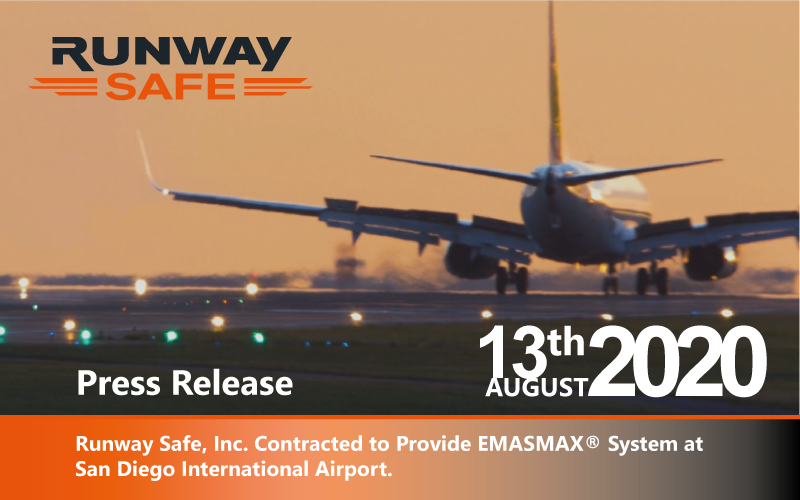 13.08.2020
Runway Safe, Inc. Contracted to Provide EMASMAX® System at San Diego International Airport
Runway Safe, Inc. has entered into a contract with San Diego County Regional Airport Authority, the owner/operator of San Diego International Airport (IATA: SAN, ICAO: KSAN, FAA: SAN), to provide an EMASMAX Engineered Material Arresting System (EMAS) in time for a spring 2021 installation. San Diego International's runway 09-27 is the busiest single runway airport in the United States serving +25M passengers in 2019 and Runway Safe is delighted to have the opportunity to be a part of this safety improvement project working with The County & FAA to make the flying public safer.
The newly contracted EMASMAX system, the first provided by Runway Safe, Inc. in the USA will replace an EMAS originally installed in 2006. The new system is designed and tailored specifically to today's aircraft operating at the airport. Due to the unique ability to provide EMASMAX systems in varying materials strengths, the new system will provide a higher level of predicted deceleration performance and is thus more capable than the system installed today.
About Runway Safe Group
Runway Safe Group is a fast-growing Swedish based company specializing in Runway Safety – saving human lives and assets in case of an accident. The company was founded in 2014 with the launch of an innovative Engineered Material Arresting System, known as greenEMAS, based on many years of research and development on the arresting performance of foamed glass. In early 2020 Runway Safe acquired the EMASMAX product line from SAFRAN. The EMASMAX product, also developed after many years of research and testing is comprised primarily of cellular concrete. With this recent acquisition of EMASMAX Runway Safe is now uniquely positioned to provide airports around the globe with the most effective EMAS solutions for their runway safety area needs. Runway Safe is now active on five continents and has a growing global customer base of airports who rely on the proven performance and reliability of FAA approved greenEMAS & EMASMAX aircraft arresting systems.
EMAS systems, now serving over 135 runways worldwide has been credited with safely arresting fifteen aircraft, ranging from a Cessna Citation to a Boeing 747, saving the lives of +350 passengers/crew members. In most cases, after extraction from the EMAS, every aircraft was able to fly away. Sections of the EMAS damaged by the overrunning aircraft's tires/landing gear are typically replaced at no expense to the airport (repairs most often covered by the aircraft operator's insurance)
For further questions contact
Martin Olsson
Vice President, Head of Marketing & Sales
Runway Safe Group
martin.olsson@runwaysafe.com
+46 725 447276